SPET (Super-Polyethylene-Terephthalate)
SPET Series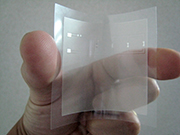 Transparent Flexible PCB
Features
High Transparency
Total light transmittance of 90%
Low Resistance
Sheet resistance of 0.95mΩ/□
High Heat Resistance
SMT compatible with 180°C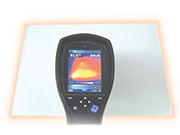 Transparent Heater Film
Features
High Transparency
Quick Heat Up
SMT Compatible
Transparent heater film with fast heat up.
Also SMT compatible.
You do not have to wait for heating it up anymore!
SPET-MM
Features
Almost invisible circuits
Low resistance
High heat resistance
Almost invisible circuits on the transparent and SMT compatible PCB.
Widely used for various applications!
SPET-α
Unbelievable Transparency
The transparency is equal to glass!
You cannot find the base film anymore.
SPET-Color
Eye-Catching Device
The new solution for electronic ads with the transparent and flexible PCB.
Your target can never put their eyes off.